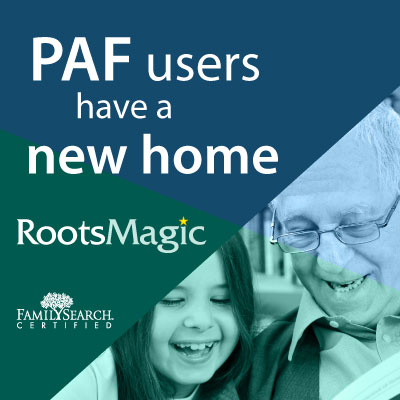 In a blog posting today, FamilySearch announced the retirement of it's Personal Ancestral File (PAF) genealogy software.
"Beginning July 15, 2013, PAF will be retired and will no longer be available for download or support. For full details and for information on alternative products, please visit http://familysearch.org/PAF."
The linked page recommends that PAF users upgrade to family history software from one of the FamilySearch parters. Of the three options listed, RootsMagic is the only software certified to utilize the full capabilities of FamilySearch Family Tree, including sharing data, ordinances, discussions, sources, and change history.
We understand that change isn't easy, so we've worked hard at putting together some new tools and supports to make the transition as painless as possible for PAF users.
A New Home
Over the past few years, tens-of-thousands of PAF users have made the switch to RootsMagic. They've enjoyed its amazing new features such as book publishing, color coding, wallcharts, Shareable CD's, running straight off of a flash drive, interactive problem lists, online publishing, a mobile app, and more!
But don't take our word for it. Here's what some of our satisfied-switches have had to say:
"I have used PAF for all my years in Family History research. I now enjoy working with RootsMagic, it is by far the best program. Thank you." — Joyce
"I want to thank everyone at RootsMagic for all their hard work! I purchased RootsMagic 4 after attending a genealogy seminar this past September. I was still using PAF at that time. When Bruce explained how easy it was to convert my data I was extatic, so I purchased the software. When I received it, it loaded quickly converted all my old PAF data (just as Bruce said it would) and I was up and running. . . Love is a very strong word, and I Love RootsMagic!! Thanks everyone, great job!!" — Kathy
"I have been working on the family history for many years using PAF, and converted to RootsMagic, which is a great program, very user friendly. I have recommended the program to beginners that are interested in finding and recording their own family genealogy." — Shirley
"A great improvement from PAF. This will help with the work. Thanks!" — Garth
Update Discount for PAF Users
To make the transition as painless as possible, we've set-up a special website at www.PAFUpgrade.com that includes training videos, testimonials, and more. And for a limited time, we are offering PAF users the full-version of RootsMagic at the upgrade price of only $19.95. You must visit www.PAFUpgrade.com to receive the discount.
Of course, we also offer a free version of RootsMagic named RootsMagic Essentials that offers the basic abilities of PAF plus the certified FamilySearch Family Tree features.
Free Quick Start Guide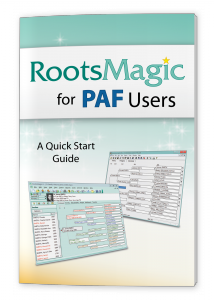 We've also put together a special guide titled, "RootsMagic for PAF Users: A Quick Start Guide". This 16-page, full-color booklet guides you step-by-step in making the switch and answers the biggest and most common questions. This guide is available in printed format and as a free PDF that can be viewed on your computer or mobile device and even printed at home. We encourage our users to download this guide and freely share it with any PAF users who may benefit from it.
As a bonus, any PAF user who upgrades to RootsMagic at www.PAFUpgrade.com will receive a copy of this Quick Start guide.
We're Here to Help
If you're a PAF user, we understand that change isn't easy. But with a little of your time and a little help from us, you'll be just as comfortable with RootsMagic as you were with PAF.
Information and Links
Join the fray by commenting, tracking what others have to say, or linking to it from your blog.
InformationJune 21st, 20138 Responses Feeds and LinksComment FeedFrom This Author Del.icio.usDigg TechnoratiCategories and TagsRootsMagicUncategorized
Other Posts
RootsMagic becomes Only Software Certified to Collaborate and Share with FamilySearch Family Tree
Reader Comments
1Written by:Russ Port
Posted on:June 21, 2013 at 2:40 pm
This is an interesting development. I started on PAF years ago and made the migration to Roots Magic on my own several years ago. It has been and easy transition and allowed me features that were not available in PAF.
I highly recommend that PAF users upgrade to the RootsMagic software you will find it a GREAT Tool.
Russ
2Written by:Janice Nusbaum
Posted on:June 21, 2013 at 3:38 pm
This is great! I have many people still using PAF and not wanting to change. I tell them about RootsMagic. Perhaps this will get them going. Thank you for such a wonderful program.
3Written by:Mick Altmyer
Posted on:June 22, 2013 at 8:41 am
Having served a mission as the Supervisor of the FamilySearch Research Support Team I was first introduced to RootsMagic. It is an amazing and powerful tool and I highly recommend it as your family history personal support management tool. Free videos and help screens with steps and pictures are available from RootsMagic and they offer wonderful support if needed. Migration of PAF files are a snap. You will not be disappointed!
4Written by:Doraleen Rich
Posted on:June 22, 2013 at 9:12 am
You are wonderful to allow old PAF users to convert so easy. I was one of them starting with version 4 of RootsMagic. It is the greatest program I have worked with. More importantly Bruce and Michael make is fun and easy.
5Written by:Jennifer
Posted on:June 28, 2013 at 11:51 pm
I've been a RootsMagic user for several years now. However, I also have used PAF for a longer time as I used it as a teaching tool for beginning family history users. I am happy that, not only has RootsMagic made their new update available to us at a fantastic price, but the best part is how easily it was to transfer all my many PAF files over. Thank you RootsMagic!
6Written by:Kathryn Douglas
Posted on:June 30, 2013 at 6:15 pm
Being able to transfer our sources from RootsMagic directly into Familysearch FamilyTree is worth the price of the software alone. What a blessing! Thank you for 'keeping it simple'.
7Written by:Jean
Posted on:July 3, 2013 at 4:28 pm
Two friends told me about RootsMagic. It was a little bit scary, but I was excited about it. a dear friend bought it for me and came over to my house to help me install it. Each day I read a little bit more of "Getting the Most Out of RootsMagic 6″ and work on using it. This is exciting and fun!
8Written by:Fran Steadman
Posted on:July 3, 2013 at 5:00 pm
I am apparently in the minority. I asked for and received Roots Magic last Christmas as it had been mentioned for a long time that PAF would be coming to an end eventually and Roots Magic was the way to go forward. I am having a hard time using it as I had used PAF since the early days of the original "floppy" discs. I am a senior citizen and not the most tech savvy, so I hope that quick start guide will work for me.